The 14th IGEM 2023, 16th Renewable Energy India Expo, and 7th Exposolar Colombia 2023 took place from October 4th to 6th. These events were graced by the presence of many well-known companies in the field of green energy, including Runergy, which showcased its impressive range of N-type high-efficiency solar modules in the three major exhibitions.
IGEM
IGEM, the most influential professional green technology and environmental products exhibition in Malaysia, brings together the leading brands in the international green industry, which is an important platform to know the trend of energy development orientation in the international market. At the exhibition, our three series of N-type high-efficiency solar modules garnered significant attention from the audience. Among the three products, N-type double-glass 144 half-cell module is the most popular, which uses the latest N-type cell technology, with a maximum power output of 590W, perfect for ground mounted projects and C&I rooftop projects. Due to the better temperature coefficient and better low irradiation performance,144 half-cell modules can generate higher power under the high temperature and humidity environment in Malaysia. Runergy's latest N-type ultra-high-efficiency modules offer a series of value advantages such as lower first year degradation, lower annual degradation, higher power gain and better long-term reliability, so that we can create higher long-term value and benefits for our Malaysia customers and market.
REI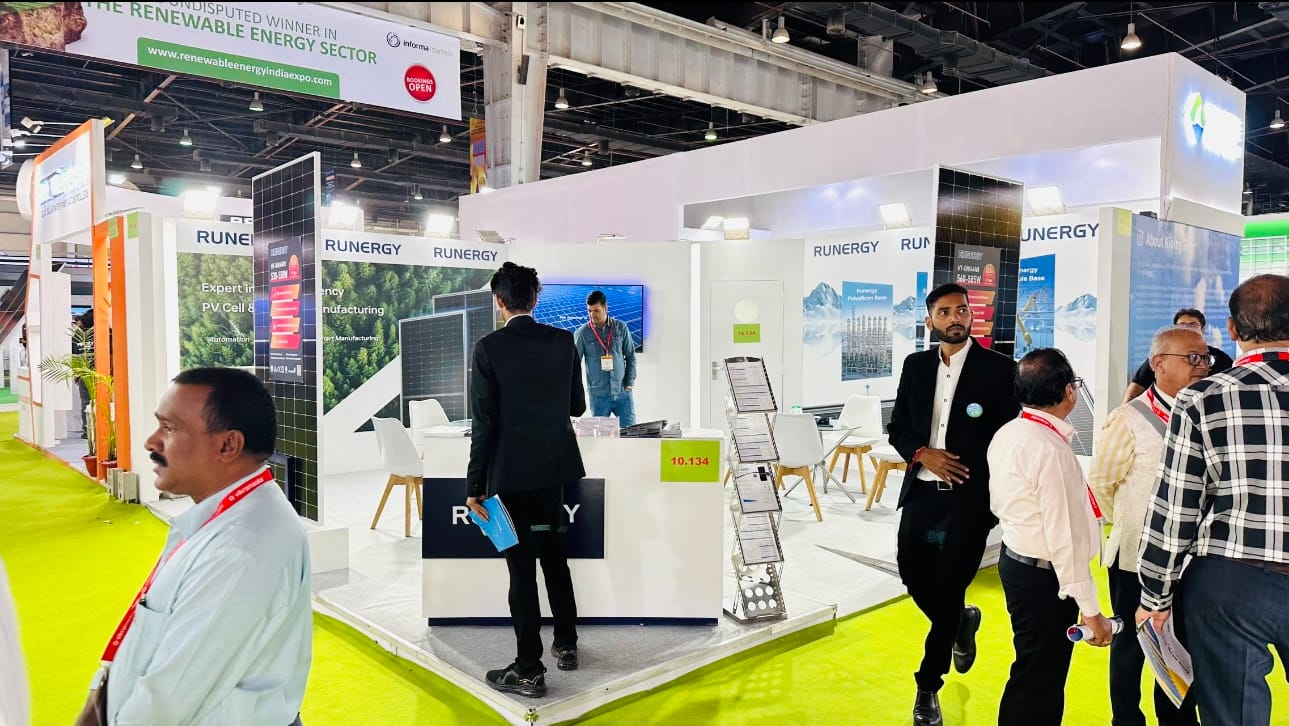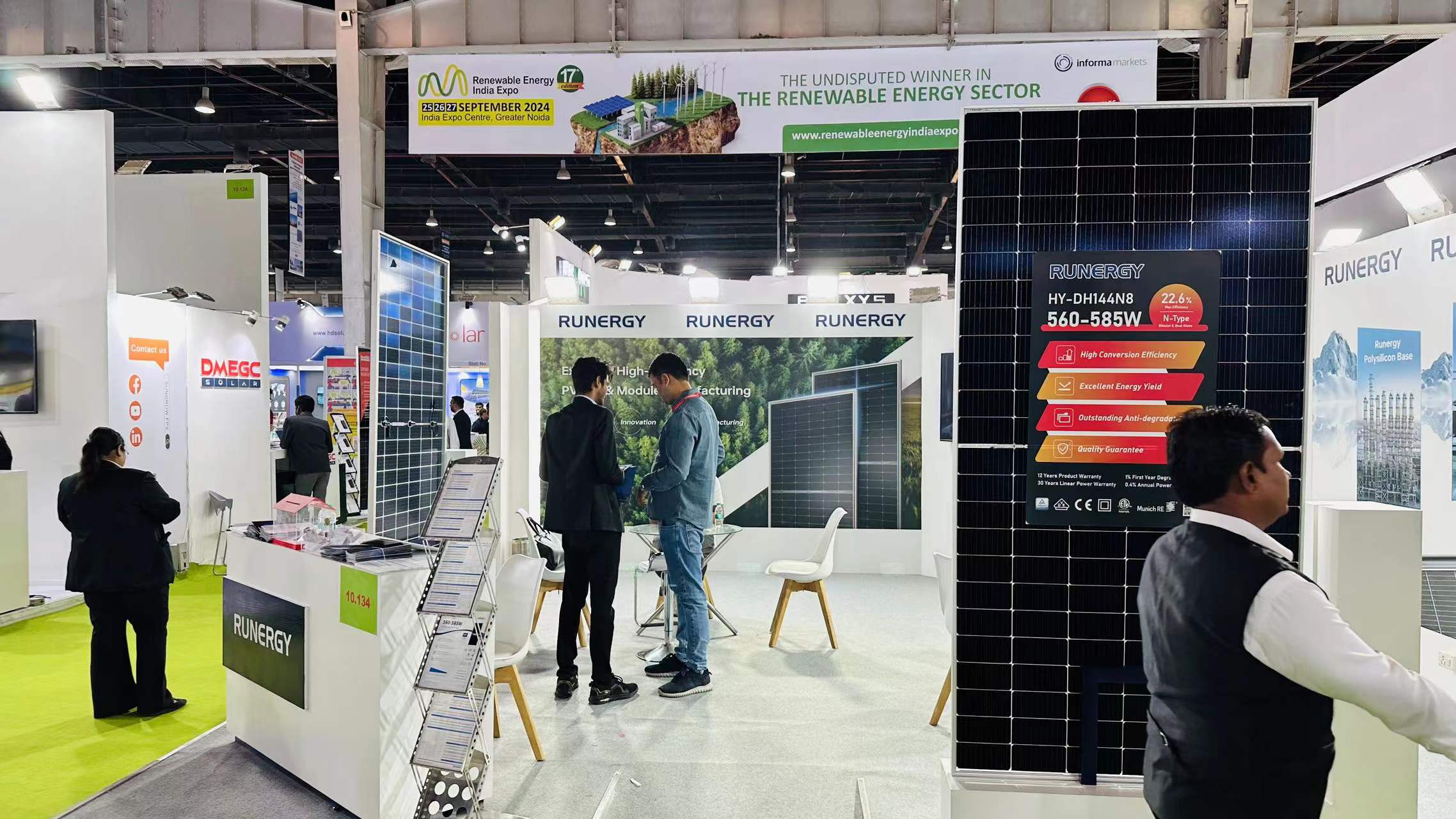 REI is one of the most prestigious international renewable energy exhibitions in South Asia, bringing together many leading manufacturers and solution providers in the global green energy industry, which provides an excellent networking platform for industry professionals focusing on the Indian market. Runergy showcased 2 series of double-glass 144 half-cell solar modules featuring latest N-type cells technology and mainstream PERC cells technology respectively. Runergy has been deeply engaged in the research and development of photovoltaic products and technologies for many years. Meanwhile, Runergy conducts strict management in a series of fields such as smart manufacturing, quality control and after-sales support, unswervingly provides customers with a full range of services, and is committed to becoming a reliable long-term partner of global customers.
ExpoSolar Colombia
ExpoSolar Colombia is the largest and most professional PV exhibition in Central America and the Caribbean. The exhibition is renowned as an important stage for photovoltaic enterprises to explore the Colombian market, drawing in a diverse range of organizations and personnel from the academia, government, and enterprise sectors. At the exhibition, Runergy unveiled the double-glass 156 half-cell PERC module, which is suitable for ground power stations and tracking system project. Given that Latin America experiences high temperatures and rainfall year-round,the double-glass structure offers advantages that it can better resist various environmental factors, and has high reliability and stable excellent power generation performance. With leading and robust solar technology R&D strength and refined customer service,Runergy creates higher long-term value and benefits for our customers by continuously providing premium products.
At these exhibitions, our latest photovoltaic module products, featuring high-efficiency N-type cells technology, received significant attention and generated inquiries from industry insiders all over the world. Runergy is committed to providing better green energy products and services for global users, and make greater contributions to the sustainable development of the world. In the future, Runergy will continue to enhance core competitiveness, optimize the industrial chain layout, and instill more impetus for the development of the global green energy industry.